Blipsonic and CDM (createdigitalmusic.com) yesterday announced MeeBlip anode. Combining an analog filter with unique digital sound sources, all in an easy-to-understand, compact sound package, it's synth hardware anyone can enjoy immediately.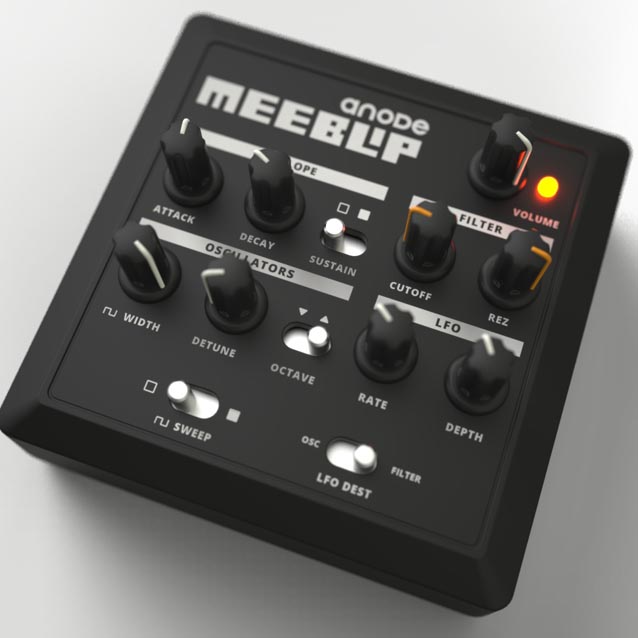 MeeBlip Anode
The all-new MeeBlip anode is part analog, part digital, capable of producing a range of uniquely aggressive, bass-heavy sounds. And inspired by the best classic synths of the past, getting your hands on that sound is always simple, direct, and intuitive. Simply plug in a keyboard, computer, iPad (via adapter), or controller via the MIDI port to play notes. Then, adjust sounds via knobs and switches – you don't need to navigate a single menu.
Its digital side reproduces the sound and architecture of classic synthesizers, but with an emphasis on adding personality, especially in the low end. Its all-new analog filter with resonance can range from smooth to raunchy – perfect for shaping sound or making squelchy basslines.
Primary features
– Unique 8-bit oscillators meet an original analog filter
– Compact, 4" x 4" case (approx. 100 x 100 mm)
– Modulation, envelope, tuning, and pulse width controls
– Open source hardware, but fully-assembled and ready to play
– MIDI input for compatibility with vintage and modern hardware, computers, and (with a compatible adapter) iPad and iPhone
Assembly
anode comes fully assembled and ready to use. But because it's open source hardware, users can learn from anode by looking through the code and circuits, modifying how it works, or even creating their own instruments based on the design.
MeeBlip anode is available direct from the manufacturer.
Pricing
North America: US$129.95 | Europe: 129.95€ / £109.95 including VAT
PreOrder
A preorder is available now, with a discount. The product will ship in approximately seven weeks. For Black Friday / Cyber Monday, we're offering a special sale. Starting now, through midnight December 3 Pacific time in the US, the code THANKSGIVING will net an additional discount:
US$20 off in the US and Canada | €20 off in Europe | £15 off in the UK