A lot of cool and new ideas for DJ's, producers and studio's on Kickstarter. Here is another one: PALETTE.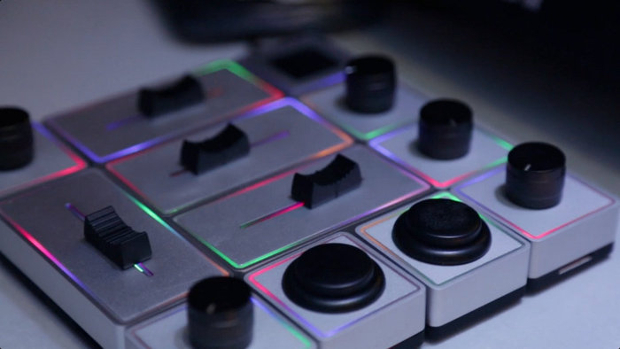 Palette empowers you to build a physical interface customized to your personal needs. It's a hardware platform made up of a variety of modules. Each module has a single physical input, like a button, dial or a slider. You snap together modules like Lego. No coding or soldering required!
With Palette you can have a tool that is personalized, increasing your experience and productivity. It's a tactile interface that you can feel without looking, and that excites the senses.
How does it work?
Palette is designed with ease of use in mind. To create your own Palette:
Plug in the Power Module (included in every kit) to your computer's USB port. Connect as many modules as you'd like in any shape or size. The Palette Desktop App detects these modules on the fly as you add and rearrange them. Use the Desktop App to easily assign module inputs to software functions, using presets or mapping them individually.
It's simple. Now you have a professional tool that is personalized, will increase your productivity and it even looks great.
What makes Palette so different?
Feature 1: Modularity and Customization
You are unique. Create an interface that fits your workflow and style. An expanding lineup of modules gives you plenty of input options as your needs grow.
DJs and Music Producers
MIDI mode lets you use your favourite mixing software
Start small and add more modules as you progress, instead of always buying and selling your old gear
Ever wanted just a few more sliders or dials? Add Palette to compliment your current equipment
LED halo light for status and visualizations in the dark
More info at: www.kickstarter.com