Like most of their products, the VT-24 came about because it was something Douglas Fearn needed for his own recording projects. He wanted to record every microphone with VT-1/VT-2 mic preamps, but was running out of rack space in his small control room. A four-channel version of the VT-2 would double the preamp capacity in the same space.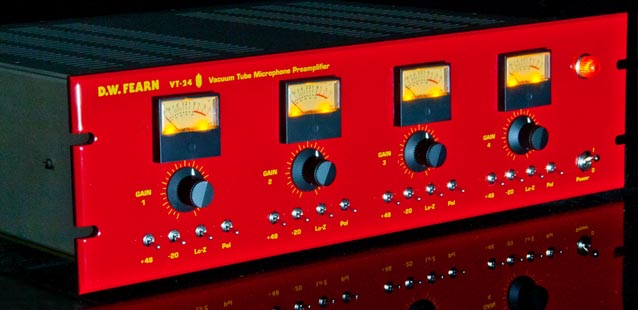 VT-24 Mic Preamp
"I did not want to compromise on the sound nor on the features of the VT-2. The VT-24 uses the identical circuit and custom Jensen input and output transformers as all our mic preamps. It has four true VU meters, but they are smaller than on a VT-1/VT-2. Specs are the same as a VT-2, and, most importantly, the sound is exactly the same," says Douglas Fearn.
The VT-24 has eight tubes, but it runs cool enough that no fan is required, so you can have next to live mics without a problem.
One thing that he did have to eliminate in the VT-24 is the meter switch. But the 48V phantom power, 20dB pad, and special input selection for Low-Z microphones are just like on a VT-1/VT-2. The power switch is on the front panel.
SPECIFICATIONS
Input 150 ohms
Input Load Impedance 1.5k ohms
Minimum Input Level -65 dBm nominal
Maximum Input Level @ 20 cps -30 dBm without pad, -5 dBm with 20 dB pad
Gain 53 dB
Frequency Response +/-0.25 dB 20 cps to 20 kc; -3 dB @ 0.5 cps and 55 kc
THD+Noise less than 0.25% 20 cps to 20 kc
Intermodulation Distortion SMPTE less than 0.02%
Signal to Noise Ratio 74 dB minimum
Equivalent Input Noise -124 dBm maximum
Output low-Z, transformer-balanced
Maximum Output Level +22 dBm, 20k ohm load
Power Requirements 100, 120, or 220 VAC, 50/60 Hz
Dimensions 19″ (48.26cm) W, 5.25″ (13.34cm) H, 14″ (35.56cm) D
Weight 20 lbs (9kg)