The new generation of DJs uses controllers, especially the DJs playing at home. They don't buy an expensive CDJ set anymore but start out using a controller and a laptop or tablet. In the stores these controllers are the big sellers. Advantage of this is that there is an abundance of choice. Budget wise, style and possibilities you can make the choices you want. Especially for the people that start out you can start with a modest budget because playing can be an expensive hobby. So the majority of manufacturers will enable this like for example with the Beatmix4 of Reloop with recently a reduced price. Does the Reloop Beatmix4 give value for money or should you save money for something else? Our opinion about this controller with a limited price tag will follow.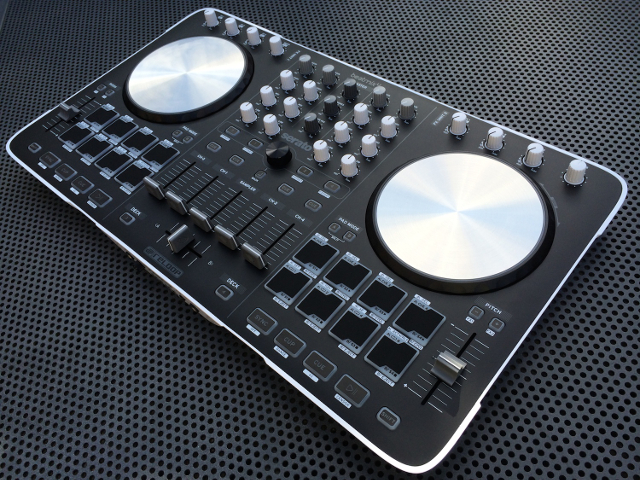 First Impression
The Beatmix4 looks like a small and relative simple controller and seems to have everything you would expect. You can see a 4-channel fader section with DJ eq controls, two big jog wheels with each 8 led lighted pads, controller buttons and a pitch fader.
Build quality
The Beatmix4 is relatively heavy (2.7kg) so it will stay put but otherwise as heavy you might imagine. All pots and knobs feel OK. The jog wheels are you would expect of Reloop (of course). The faders are not in balance with the rest of the controls and could be upgraded to have a better feel. Still usable but too loose for my taste.
Layout
The Beatmix4 has a traditional layout. Two decks with a mix section in the middle just as you would expect. There is more than enough room between the controls. People with bigger hands also can use this with ease.
Connections
The Beatmix4 doesn't have many connections but just enough to do your thing. The backside has a bus powered USB2 connection. So no hassle with a power adapter. Also two RCA outputs so you can attach it to your stereo set, passive volume control or directly to some powered speakers. On the front you have a microphone input (1/4 jack) with a gain control and two headset outputs (one 3.5mm and one stereo 1/4″ jack).
Software
It comes with an intro version of Serato DJ software. Additional effects software are from effect plugin specialists Izotope. Hardware requirements are pretty lenient for Mac/PC. No tablet support is mentioned so not expected to work.
Sound quality
The Beatmix4 sounds OK for a controller in this price range. The lack of balance output means a bit more noise which you will never notice when playing some loud tunes. Still sufficient for a home setup or a small party. The headset outputs are adequate as well.
Possibilities
What does the Beatmix4 make special in its price range? Firstly the jog wheels, being pretty good. Reloop upholds it reputation for having good jog wheels. Secondly the 16 illuminated pads. Ideal in combination with Serato DJ. With this software you have several appliances for the pads you can switch between functionality by choosing controller buttons. All pots have a center click which is ideal. Each deck has its own loading button so you cannot load a wrong track on your deck by mistake. In Serato DJ you have four decks you can assign via the controller to the two deck control sections.
Pros/cons
+price tag
+4 decks
+Jog wheels
+16 lighted pads
+Software
+Ergonomics
-Faders
-Limited outputs (none balanced and no separate booth output)
Conclusion
The Reloop Beatmix4 is a good controller in its price range. It has everything you would like including loops and effects to control for the Serato DJ software that comes with the unit. Excellent quality of the jog wheels. Good value for money, especially for the people with a limited budget and starters.
Reloop Beatmix, MSRP 299 euro
Reviewer: Dave van Gorp, remixed for Gearjunkies by Wouter 'TheBadMothafucka' Veltmaat.