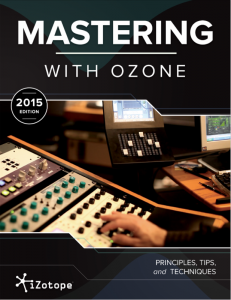 iZotope has updated their free educational guide Mastering with Ozone to keep pace with the evolving world of mastering technology and technique. The free guide is a comprehensive resource for everyone who wants to learn more about the mastering process.
The guide's 68 pages cover mastering basics, general EQ tips, dynamics, loudness maximizing, stereo imaging, meters, dynamic EQ, and many other concepts. The final chapter provides insights from mastering pros like Greg Calbi, Adam Ayan, Bob Ohlsson, Scott Hull, and Marc-Dieter Einstmann on how they approach mastering and use specific tools.
The 2015 edition has been revised by Jonathan Wyner, iZotope's Education Director and Chief Mastering Engineer/Founder of M Works Mastering Studios. Over the past 25 years, Jonathan has mastered more than 5,000 releases across every musical genre. Notable mastering credits include Aerosmith, David Bowie, Cream, Aimee Mann, Rahsaan Roland Kirk, Nirvana, and many more. In addition to his mastering projects, Jonathan is also a faculty member at Berklee College of Music.
Mastering with Ozone is part of iZotope's initiative to give back to the audio community. Over the past decade, they have compiled knowledge and feedback from mastering pros into a guide that's useful for users of all levels. It's the perfect educational companion to Ozone 6 and Ozone 6 Advanced, for users who want to learn more about the powerful polishing tools available in the latest version of iZotope's acclaimed mastering suite. But it's also designed to be helpful for all audio enthusiasts, whether or not they own iZotope's creative mastering platform.
Download Mastering with Ozone for free as a PDF or as an iTunes e-book.