After setting new standards in film scoring with its renowned Symphobia Series and Orchestral Essentials Series, ProjectSAM now brings you Swing! – The Jazzy Film Scoring Library. Swing! playfully brings together the worlds of jazz and film scoring with lively big band ensembles, a groovy rhythm section and an awesome set of solo lead instruments. It offers you an incredibly diverse collection of sounds that blend together marvellously. If you compose for film, animation, games or advertisements.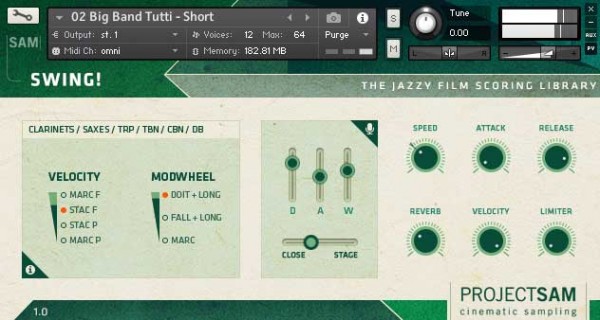 Features
Big band ensemble articulations
Separate sax and brass sections
Beautiful solo mute trumpet legatos
Rhythm section includes guitars, basses and jazz drums (brushes)
Greatly playable lead instruments
Includes tempo sync guitar and drum grooves
Script intelligently switches to half or double tempo
About ProjectSAM
The main keyword to describe the work of ProjectSAM is: cinematic. Their libraries are specifically created for film, tv and game composers. Being composers in these industries they know how they want their mixes to sound and come across aspects still missing in the sample world.
The ´ProjectSAM sound´ is best described as deep and warm. Because they offer each library in multiple microphone sets, the samples fit into any mix easily. A second important aspect of ProjectSAM´s philosophy is the focus on unique articulations and effects. In each of their libraries they include playing techniques, instrument combos and cinematic effects that you won´t find anywhere else.