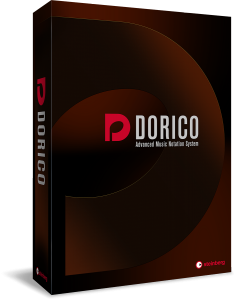 Steinberg Media Technologies GmbH today announced details of its highly anticipated music notation software, Dorico, scheduled for release the fourth quarter of 2016.
A few years ago Steinberg established an R&D center with a new development team in London, setting out to develop next-generation professional scoring software for composers, arrangers, engravers, copyists and educators. Now, Steinberg has provided an overview of the powerful feature set to be included in the initial major release of Dorico, the advanced music notation system. With its perfect combination of power and simplicity, Dorico holds the key to unlock a whole new world of musical creativity. Its easy and straightforward single-window user interface comprises high-performance tools and versatile page layout options that place a clear focus on a smooth workflow.
Dorico provides the most flexible note input and editing functionality of any scoring application, including the ability to work entirely in open meter or to freely rebar existing music, while maintaining clear and unambiguous rhythmic notation at all times. Only Dorico allows composers to experiment freely with musical ideas, including seamlessly inserting music within an existing passage, or changing the durations of existing notes, and have correct notation produced automatically after every step. The application also provides unique capabilities for project management, allowing users to easily produce works with an unlimited number of staves and movements, sections or pieces within the same project. Dorico facilitates the creation of various score layouts with independent page size, staff size and system layout, powered by a desktop publishing-quality page layout engine.
Dorico's graphical output is intended to uphold the centuries-old craft of fine music engraving, with attention to even the smallest of details. Taking every subtlety into account, Dorico aims to fulfill the aesthetic demands of the most discerning engravers and publishers, providing extensive capabilities for graphical tweaking and editing.
Dorico's multi-threaded architecture makes the software smooth and responsive, even when working on large-scale projects. Building on Steinberg's award-winning audio engine, Dorico comes with a host of sumptuous VST instruments and effects, including HALion Sonic SE and the entire HALion Symphonic Orchestra library.
Steinberg's Product Marketing Manager, Daniel Spreadbury, commented: "After working on Dorico for more than three years, we are excited to finally announce its name and forthcoming availability. All of us on the Dorico team are dedicated to building the best, most beautiful and most useful tool for working with music notation, and we will continue to work hard over the next few months to refine the application before the first version is available for everybody to try for themselves. This is just the beginning of the journey, and we look forward to working with our user community to continue to shape Dorico into the ultimate tool for composing, arranging and publishing music."
"We are pleased that such a highly respected team of developers joined the Steinberg family. By combining our expertise we shall be able to provide an even wider range of powerful solutions for our customers," said Frank Simmerlein, marketing director for Steinberg.
Availability and pricing
The full version of Dorico will be available from Steinberg resellers and through the Steinberg Online Shop in the fourth quarter of 2016 for 579 euros including VAT.  Educational pricing for qualifying teachers and students will be 349 euros including VAT.
A special time-limited crossgrade offer for qualifying Sibelius and Finale users will be available for 299 euros including VAT.