TC Electronic is happy to announce the MD3 Stereo Mastering package for PowerCore. This package brings professional production and mastering possibilities only known from System 6000 to the realm of DAWs, and integrates smoothly with important VST- or AU compatible applications for music and post production. The MD3 Stereo Mastering package includes two first-class algorithms, MD3 Multiband Dynamics and BrickWall Limiter, and it will be shipping at EUR 995,-/USD 995,- on September 1st 2004.
"System 6000 is already recognized as an industry milestone, and it is the most research intensive audio processor ever created. It has been a long time wish for us to make some of the unique mastering tools of the System 6000 available to users of VST- and AU compatible applications", says Thomas Lund, Program Manager at TC Electronic.
MD3 features a multiband, 48 bit resolution structure, and offers a 3-band compressor, an expander, a 4-band parametric equalizer and a limiter in one powerful algorithm. MD3 can be configured for stereo or dual mono processing, and used on single sources as well as composite stereo mixes. Alternatively, stereo material may be processed in the MS domain, or MD3 may take in MS signals and convert them to stereo with processing taking place in either the LR or MS domain.
The multiband section has the advantage of adjustable look-ahead delay for gentle processing of transients, while the limiter uses its own overshoot proof micro-delay to
MD3 Stereo Mastering Screenshot: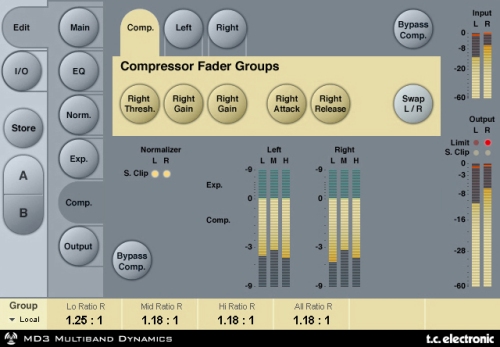 Brickwall Limiter Screenshot: