PSP Audioware informed us that they updated the Mac OSX version of their award winning EQ plug-in PSP MasterQ to version 1.2.1. (free update for registered users). At the same time they officially ported it to AudioUnit and RTAS format. It means that PSP MasterQ can be used not only in any VST hosts such as Cubase or Nuendo but also in any AudioUnit hosts such as Logic, Digital Performer, GarageBand and in ProTools LE/ ProTools TDM systems which are hosts for RTAS plug-ins.
PSP MasterQ is a high quality parametric equalizer designed to operate at sampling rates ranging from 44.1 to 192kHz . The plug-in (VST and DirectX for PC; AudioUnit, VST, RTAS for Mac OS X) contains seven filters: 12 or 24 dB/oct low cut and high cut filters, low shelf and high shelf filters, and low mid, middle and high mid peaking filters-all of them with adjustable frequency and Q factor over a wide range. The plug-in also includes a high precision EQ graph to display an overview of the EQ curve, as well as display the individual characteristics of each filter.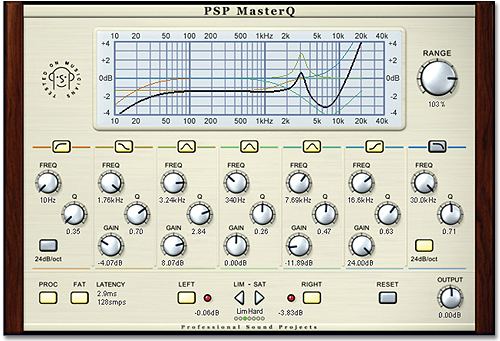 Demo version is available at the PSP Audioware website. A complete version history at their user forum.