Source Elements announces a further broadening of its product lineup by releasing a lower cost version of Source Connect while at the same time enhancing the capabilities of the newly released Source Connect Pro 2.5. The Source Connect family of products continues to be the Pro Tools connectivity toolset of choice, enabling real time, high quality, low cost connectivity options such as DSL, cable or T1 lines. Current Source Connect Pro users include hundreds of the top studios around the world.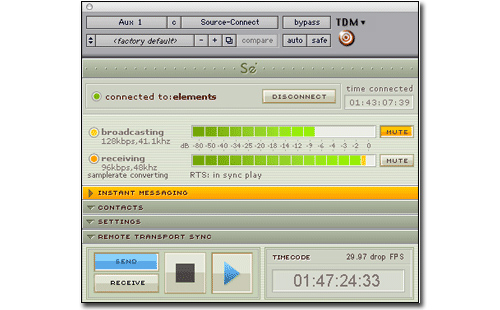 The new lower cost Source-Connect 2.5 retains the core functionality of Source Connect Pro, but is customized for musicians and voice-over artists. Source Connect 2.5's feature set includes stereo bit-rates up to 192kbs, a simplified user interface, Remote Transport Synchronization with overdub mode and the ability to connect to Source-Connect Pro. Utilizing the most current AAC/mp4 algorithms, Source-Connect 2.5 provides users with true 24 bit audio quality. This new version of Source-Connect is scheduled for release in early February 2006 and will be priced at $395 USD.
Source-Connect Pro 2.5 features include stereo bit-rates up to 320kbs, Multi Connect, Remote Transport Synchronization with overdub and review mode, VPN functionality for increased security, advanced control over bandwidth optimization and latency, user-defined port selection, phone support with the option for certification and is optimized to allow multiple users within a network. Source-Connect Pro remains available at www.source-elements.com and is priced at $1,495 USD. For a limited time, all new purchasers of Source-Connect Pro will receive a copy of Source-Elements new product, Source-Live at no additional cost (a $395 value).