Offering a completely new way to sequence. Nortron is the idea palette and live performance tool capable of previously impossible sequences. Inspired by the Latronic Notron, DSPaudio innovates a never before seen design.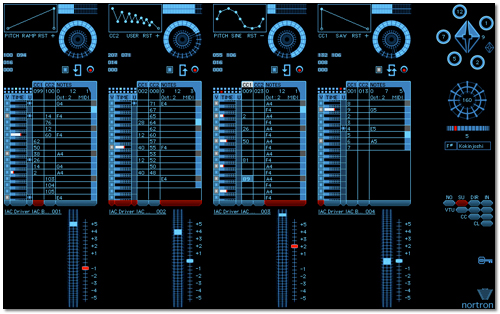 A software sequencer inspired by classic hardware, Nortron goes further into new sequencing dimensions while retaining tight timing, quick navigation, and instrument like playability. Through IAC and CoreMIDI, Nortron controls Softsynths and standard MIDI devices. Nortron breathes new life into old instruments and otherwise dull synthesizers by playing them in ways not previously possible.
Specifications:
* 4 Independent Sequencers
* Notelengths 2-251% step length
* Velocity 0-127
* Patterns 128
* Pattern Lengths 1-16
* Channel Delay 0-20ms
* Local Pulse Control 1-16
* Global Tempo 1-255
* Global Pulses 1-16
* Velocity A or B
* Note offset 0-15 pulses
* UltraStep on/off and Polarity +/-
* Local and Global Sustain On/Off
* User defined modulation waveshapes
Compatibility:
* Nortron is not CPU intensive leaving your computer free for media processing.
* IAC and CoreMIDI are fully supported
* Nortron works with:
Reaktor 5, Kyma, Max/MSP, Sonar, Digital Performer, Cubase, Nuendo and Pro Tools.
Nortron is for MAC only at this moment. In an effort to bring some fun to your desktop, DSPaudio has built a functional demo of Nortron 1.0 for you to try. The demo allows you to use most features of the application with an embedded soft-synth. The demo is a fully working application with no time limit or bothersome reminders.