Studer has upgraded the DSP backbone of its entire Vista range of consoles with theintroduction of the smaller yet much more powerful SCore Live DSP platform.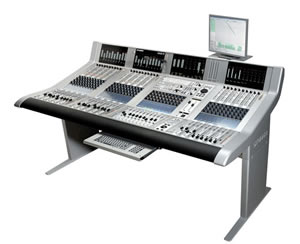 Shown for the first time at IBC, the SCore Live system occupies just 6U rack space, provides for up to ten DSP card slots and can also hold up to 12 I/O cards of various formats, additional GPIO.
The SCore Live (like its predecessor the Performer core, but unlike other DSP platforms) is user-configurable to maximise the use of the DSP in different applications. The advantage of this is that the user can specify and purchase the optimum amount of DSP for current needs without compromising future production requirements. Fixed configuration DSP platforms can add extensive cost onto a console system.
Studer's Product Manager for the Vista consoles, Stefan Ledergerber, cites the price-performance ratio increase: "advances in technology coupled with Studer's continual innovation means we can bring down the price of higher-powered console systems, yet still increase the performance levels."
Studer's System Configuration Editor software, available as an option, allows the client to take the factory-defined settings, and make his own adjustments on a job-by-job basis, including changing the number of input channels, busses, and outputs. Even the signal flow capabilities within the console may be changed on an application basis, making the Vista console one of the most flexible digital desks on the market.
A new facility in the DSP allows delays of up to ten seconds to be added to signals, to compensate for video delays through satellite links etc.
The SCore Live maintains full redundancy, with redundant power supplies and even DSP card redundancy. In the case of a hardware failure, any unused DSP card will take over the processing almost immediately. Further, a redundant link between desk and core is available, as is a redundant communication card. In the case of a catastrophic total power loss of the system the core will boot independently of the desk and pass audio in under ten seconds – recalling the last audio settings before the power failure.
As always with Studer, no compromises are made on sound quality — the SCore Live uses the highest possible quality converters with the very same highly acclaimed processing algorithms with 40-bit floating point arithmetic like its predecessor to guarantee the best resolution of the audio at all signal levels, particularly in the A/D and D/A converter stages. Floating point summation, a feature not found in many digital console designs, is used in the console busses.
Customers with existing Vista series consoles will be able to upgrade to the new SCore Live.