The Black Series is a revolutionary modular rack system combining the pristine, uncoloured audio path normally associated with Audient, with an extremely varied palette of tonal colours provided by the unique, discrete, and transformer coupled class audient circuitry.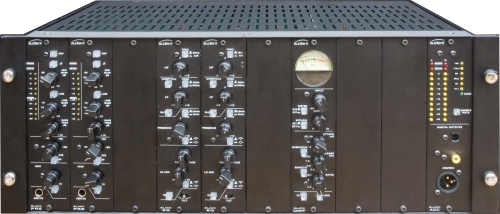 This combination of technologies draws on the wealth of David Dearden's design experience, from his early valve based studio days right through to the current digital age.
The modules:
Black Pre
Discrete Class A circuitry
Transformer Balanced Mic and Line inputs and unbalanced Instrument/ DI input
"HMX" – Harmonic Sculpting feature
Variable high pass filter
Polarity invert switch
12 segment display
Black EQ
Discrete Class A circuitry 4 band EQ
Transformer balanced input
"Enhanced Slope" HF / LF shelving, Hi Mid Presence/Absence, sweep Lo Mid
"Overtone" – LF band specific harmonic enhancement
"Glo" – LF band specific dynamic equalisation
"Tilt" – shifts overall tonal balance around 1kHz
Black Comp
Discrete Class A circuitry opto compressor
Transformer balanced input
VU meter- switched between gain reduction and output level
Switched Ratio, Attack and Release controls
"Auto" Release function
"Overcomp" – Fet based compression circuit for over-compression feature
"Smooth" – Switches to dual time constant mode for overall mix bus compression
"Link" – to link modules for multi channel use
Black ADC
Latest Super High Performance AKM chipset
Up to 192kHz sampling frequency at 24 bit resolution
AES, Spdif and toslink outputs
12 segment level display with OdBFS and Over LEDS
Discrete inputs – allows the module to be used as a stand alone converter
Black Rack BR – 10
The BR-10 can accommodate up to 10 Black Series modules. The integrated rear connector panel allows the modules to be freely installed in a sequence that suits the user's requirement. The last 4 slots can hold either analogue modules or up to 4 Black ADC analogue to digital converter modules. Power to the Black Rack is provided via the external Black PSU power supply.
Prices and shipping date will be announces soon.