The Dynaudio Acoustics BM 5A set a new benchmark for what an active nearfield studio monitor could be. The new BM 6A mk II and BM 12A take advantage of that same design philosophy while offering more power, more headroom and wider frequency response.
As one of the few manufacturers that build our own drivers, we believe in a no compromise approach to designing studio monitors, whatever the application. The new BM 6A mk II and BM 12A are no exception to that rule.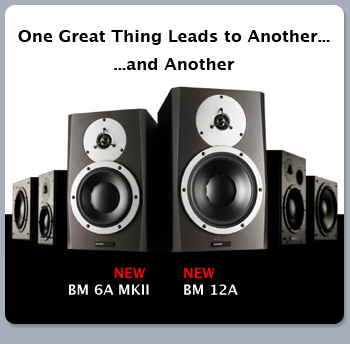 BM 6A Mk II
The BM 6A Mk II is a two-way full analog active nearfield monitor with a 6.9" woofer and 1.1" soft dome tweeter. The BM 6A Mk II delivers the distinctive Dynaudio Acoustics objectivity and accuracy exposing every audible detail to the critical and demanding engineer – be it in music monitoring, mixing, broadcasting, OB vans, editing suites, post production facilities and project studios. Onboard LF/MF/HF placement filters as well as subwoofer high-pass filters allow optimal adaptation in any application including a powerful combination with the BM 14S.
The BM 6A MK II features integrated positioning filters (LF/MF/HF shelving/notch) and 60/80Hz high-pass filter for subwoofer adaptation. Besides that it has a balanced analog XLR input and 50W/100W tweeter/woofer amplifier. The BM 6A MK II is prepared for intensive use with input sensitivity switch (-10/+4dB range), a clip indicator LED, Slow attack optical HF protection and thermal amplifier protection.
BM 12A
The BM 12A is a two-way full analog active nearfield monitor with an 8" neodymium magnet woofer and 1.1" soft dome neodymium tweeter. This medium-sized nearfield monitor delivers the world renowned Dynaudio Acoustics clarity and transparency, building on the latest Dynaudio Acoustics neodymium driver technology. The onboard placement and subwoofer adaptation filters allows BM 12A to blend seamlessly into a large range of applications like OB vans, project studios and post production facilities.
Pricing and Availability:
The BM 6A MKII retails at EUR 680 each excl. VAT. The BM 12A retails at EUR 900 each excl. VAT.