Mackie is pleased to announce final pricing and availability of the TT System32 Digital Live Mixing System.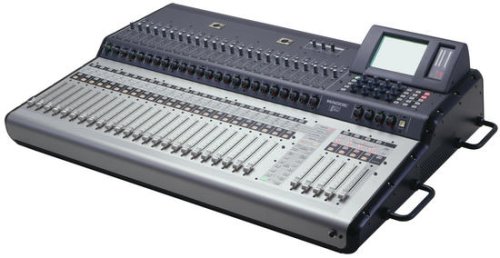 Available for the first time through authorized Mackie dealers in the second quarter of 2007, the TT System32 Digital Live Mixing System consists of the TT24 Digital Live Console, DS3232 Digital Snake, and the U100 Networking Card. These products are destined to propel the TT24 forward as the most progressive and complete professional digital mixing system in its class.
"We are extremely excited about the ongoing development of TT24 technology and to bringing even greater levels of professional performance and functionality to the mid-format digital mixer category," commented Mackie Brand Group Vice President John Boudreau. "TT System32 represents a giant step for Mackie. It's the first time anyone has offered a complete digital mixing package, and at a price you'd normally expect to spend for the console alone. The U100 Network Card, along with the DS3232 Digital Snake, represents the first implementation of our U-Net digital audio and control protocol. U-Net tapped into all of Loud's design and engineering resources to deliver the low-latency, high-bandwidth audio network that is used in the TT System32."
TT System32 Digital Live Mixing System
The TT System32 combines Mackie's powerful TT24 Digital Live Sound Console with the DS3232 Digital Snake and everything needed to connect the two for a complete, plug and play digital live mixing solution—just add stacks and racks. TT System32 provides stage-to-console connectivity via the DS3232 digital snake with 32×32 analog I/O, 32 ultra high-quality Mackie mic preamps, and complete remote recall and control of all preamp settings (gain, pad, phantom power) all through a single, lightweight Cat-5 cable (up to 300′). A total DSP package (gate, compressor and EQ) is available for all 32 input channels, 8 more than the stock TT24's DSP channel count. The TT System32 includes a U-100 Network Card and 100′ shielded Cat5 cable for out-of-the-box mixing capability in mere moments. TT System32 saves you money by adding complete, remote stage connectivity and control at what was previously a "console-only" price point.
DS3232 Digital Snake
The DS3232 Digital Snake puts 32 balanced XLR ins and outs of 24-bit/96kHz digital audio where it belongs—on stage. Designed specifically for use with the TT24 Digital Live Console, the DS3232 carries I/O from up to 300 ft via standard Cat-5 cable. This digital connection is noise-free and impervious to RF interference, making traditional analog cable exponentially more troublesome, expensive and cumbersome by comparison. The 32 ultra-high quality Mackie mic preamps in the DS3232 are digitally controlled from the TT24 mixing console, with full DSP (Gate, Comp, and EQ) functionality and full recall of mic preamp gain, pad and phantom power settings. Both A/D and D/A converters are internal to the DS3232, further eliminating the signal degradation typically associated with long analog snake runs—making it perfect for mobile FOH applications, fixed installations and houses of worship.
Advertisement
U100 Networking Card
The DS3232 uses U-Net to transfer 32 channels at up to 96 kHz sampling rate to the TT24 and back. In addition, control data is passed in both directions allowing you to control the preamps in the snake remotely from the TT24. The U-Net network provides rock solid timing and lightening fast transfer rates – with only 0.8 ms added latency at 96 kHz. The network is also extremely scalable and will be used for a number of alternate applications including linking two TT24 consoles (for dual front of house use) or connecting the front of house and monitor console to the same snake. It will support routing signals to and from other U-Net capable proprietary and 3rd party devices. And because it can be upgraded, any new U-Net products and features can be added to the TT24 and DS3232 Digital Snake in the future.
The new Mackie TT System32 Live Mixing System will be available Q2 – 2007 and will have a U.S. manufacturer's suggested retail price of $12,999.99. Purchased separately, MSRP will be $7,199.99, $5,599.99 and $739.99 for the TT24 Digital Live Console, the DS3232 Digital Snake, and U100 Network Card, respectively.