A couple of weeks ago I got the opportunity to get a couple of headphones from KRK in, to check them out. So the dutch distributor send us a pair of their latest studio headphones, the KNS-8400. We all know KRK for their excellent studio monitors, so I was curious if they could manage to get the same quality and high standard going for them in the field of (professional, studio) headphones.
Look and Feel
Let's start with the first obvious impression you get when opening the box. How do they look? Well, they're black. They don't scream 'I am here!'. But then again to me personally, I like it this way. They are not DJ Headphones which often have to support a certain 'flashy' image. I prefer this distinguished black look!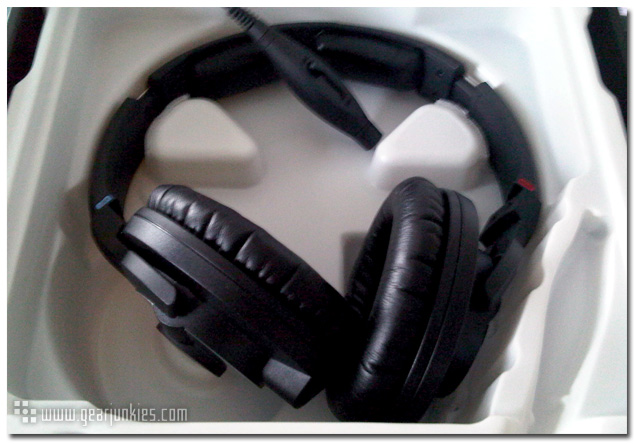 The KNS-8400 feel solid but still fairly light. You definitely don't wear a big heavy weight on your head. The headband and the cups have nice leather padding which make them very comfortable. I had no problem wearing them for hours on end. The cups were big enough to cover my ears. Once I put them on and adjusted them to my liking, they stayed there till I took them off again without any fatigue or irritation to my ears, which I did have in the past with other headphones.
Sound
Here's where it started out scary. The headphones have a detachable cable. As I took the KNS-8400 out of the box I plugged the cable in. Connected them directly into my Steinberg CI2+ audio interface, put them on and … well got a big scare. The sound was terrible. This can't be true I thought.
But! As anyone should read the manual or at least take a look at the pictures on the box itself, I missed one (important) step before using these headphones. And that's a twist of the (cable) connector after putting the cable into the headphone. With that little twist the cable clicked tight into the headphone cup.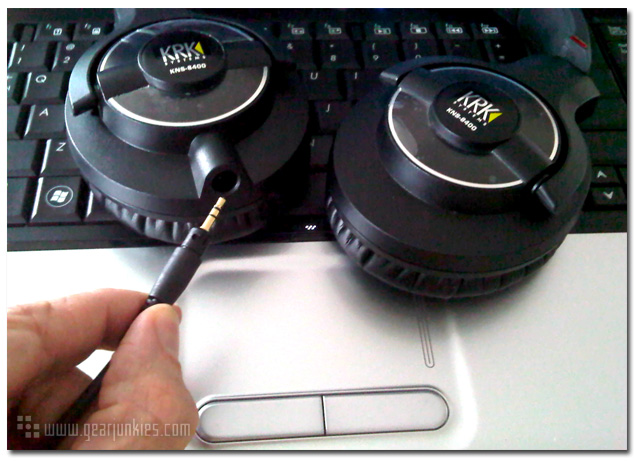 At first I had almost no low in the sound, but after I connected the cable correctly, the sound was much, much better. To be honest that was a relief. Now at least I could write a review. Another fact I realised after starting to use these KRKs, … I had lazy ears! Maybe this sounds weird but suddenly I heart a much more detailed sound. This wasn't specific a KNS-8400 issue, but more the way I used sound/music before.
When I do my work for Gearjunkies, no minute by goes bye that music isn't playing. But the music I listen to is music I have on my PC through a cable into my HiFi system. I didn't realise that this sound was very subjective and far from 'honest' and also heavily 'colored'. When you then start listening to music through a high-end professional studio headphone, wow, it's like I rediscovered honest sound again! And here's where I started to appreciate these headphones very much. I like the clarity of the sound the KNS-8400 gives me.
I am 'somewhat' of an amateur producer. As I started using these headphones during my work in Cubase I really heart things that shouldn't be there. And I mean with that, some instruments were in eachothers way, so now I could fix that because now I heart what wasn't right, yet. Some EQ here, little compression there, and it all sounded better. Everything was balanced out much better.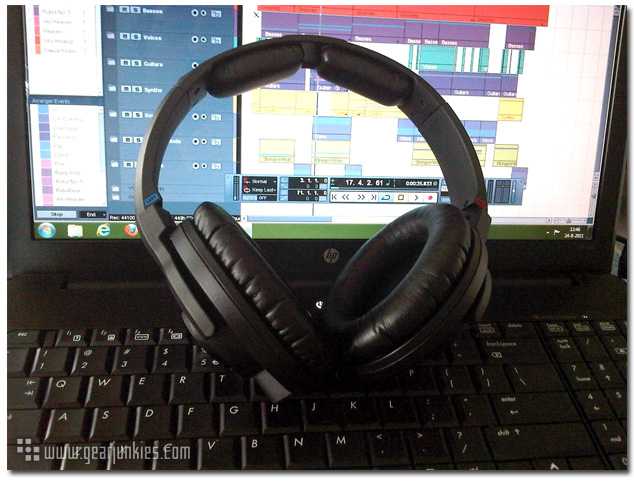 Can headphones replace a good pair of monitors in a room with good sound proofing and acoustics? Of course not! But in those moments that you can't 'rock out', like in being considered to your neighbours in the middel of the night for example, a good pair of headphones can be a good alternative. Also I think for those among us that don't have the funds, room or ambition to build that soundproof studio environment, a good studio headphone can help out (somewhat).
Verdict
I like them! Will you? Impossible to say. Like with studio monitors you have to choose and work with a pair YOU like. The KNS-8400 has a moderate bass response. For some of you that's not enough. Again for me, it felt just perfect. I don't like headphones were the low end floods the complete overall sound. Because of the honesty (accurate sound) that the KRKs give me I like them. My current set are AKG K240s. As I could compare them with the KRKs I now feel that the AKG is pulling one over on me, in the sense that they emphasize the low end much more then there actually is.
Like I mentioned before, they are very comfortable and sit very well on my (big) head. The KNS-8400 is marketed as professional studio monitoring headphones, and that's what you get. Producers/Engineers will get an accurate sound or mix!
However, I can keep telling you why I like the KRK KNS-8400 but in the end I do realise that choosing the right pair of professional monitor headphones is so incredibly personal that my only advise is to check them out. Use several genres of music you like and start comparing. I have done that and I found a set I am strongly considering to buying myself.
Eric Thoolen
I would like to thank dutch distributor MWorks for lending us a review pair of the KNS-8400.