A must-have addition to your effects arsenal, the new PC4K S-Type Channel Compressor adds vintage-era, console-style, channel compression to every ProChannel strip in SONAR X1 Producer Expanded.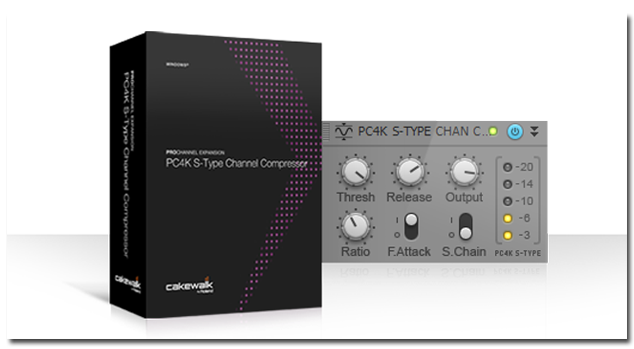 Complementary Compression
We pride ourselves at Cakewalk in providing a well thought out collection of ProChannel module effects designed to elevate any music production. Each ProChannel module is designed to complement the others and to avoid overlap in function and application. And the PC4K S-Type Channel Compressor is no exception. With its gentle, soft-knee characteristics, this module is particularly well suited to compressing and leveling sustained material and backing tracks such as bass, keys, and rhythm guitars. Flexible drag and drop routing and manual output gain control lends a modern twist to an old classic.
Classic Console Emulation
When coupled with the included PC4K S-Type Bus Compressor, the included ProChannel EQ (set to Vintage), and the optional PC4K S-Type Expander/Gate, the new PC4K S-Type Channel Compressor provides full emulation of classic, large-format, mixing consoles used by professional engineers to make hit records for over a quarter century.
Professional Mixing
Each and every ProChannel module is thoughtfully designed and expertly crafted to give the sound and experience of using the legendary hardware it's based on. The same techniques used by professional engineers can be translated to these faithful recreations, but they also provide the added flexibility and ergonomics afforded by software. This means you can have an unlimited number of instances in a mix (limited only by available CPU power) and they can be re-routed and placed anywhere in the ProChannel's signal path with a simple drag and drop. With x64 native operation and 64-bit double precision resolution, you can be assured of both smooth performance and unsurpassed fidelity.
ProChannel Modularity
SONAR X1 Producer's impressive ProChannel console strip already provides a number of options to get pro-studio sound in the box with its highly musical EQ, PC76 U-Type/classic FET and PC4K S-Type bus compressors, tube saturation, and flexible drag & drop routing. Now the ProChannel experience further expands with fully modular capability. ProChannel strips can be customized to have any combination of installed modules available on any channel and favorite combinations can be set as default for tracks and busses.
SONAR X1 Producer Expanded Required
SONAR X1 Producer Expanded is required to use the PC4K S-Type Channel Compressor module. SONAR X1 Expanded adds ProChannel Modularity which is required to add new modules. The PC4K S-Type Channel Compressor is available for $49/€35/£39 (requires SONAR X1 Producer Expanded). Buy the PC4K S-Type Channel Compressor and the upgrade to SONAR X1 Producer Expanded together for only $79/€69/£59 and save 20% (you must own SONAR X1 Producer to get these products).