The RME Advanced Remote Control is an optional accessory to the Fireface UFX and Fireface UCX. The wired Advanced Remote Control (ARC) has been designed for direct access to the most frequently used actions and commands required in a studio's daily work. Its extremely flexible configuration through TotalMix FX will simplify the workflow and greatly increase the usability of the RME interface in any real world situation.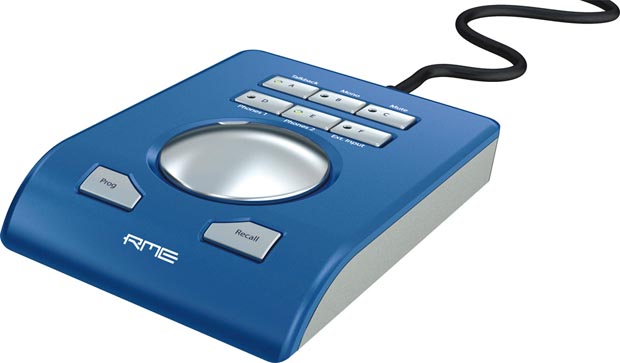 The ARC consists of a solid metal case with a main encoder dial and 8 push buttons, 6 of them equipped with LEDs. Seven buttons can be freely assigned via TotalMix FX to more than 36 different commands. Among them: Solo, mute, fader groups, Speaker B, Dim, Mono, Reverb, Echo, Cue Phones, Mic Gains and more.
The behavior of each button can be changed between push, toggle, enable and disable, depending on the base function.
The Remote Control connects to the main interface via a 5 m (16.4 ft.) cable and a special connector on the back of UFX and UCX. The Advanced Remote Control (ARC) can be used with the Fireface UCX. It can also be used with all Fireface UFX with a serial number 23241707 (built after June 2011) or higher. Users that own a Fireface UFX with a serial number below 23241707 have to send their UFX to their distributor as it requires a hardware modification to be fully compatible to the Advanced Remote Control. This modification is not free of charge.
Upcoming interfaces that feature an Advanced Remote Control connector will also be compatible.