iZotope Iris is an innovative sampling re-synthesizer that frees you to create sounds that could never before be produced. Start by dissecting up to three distinctive audio samples, using Iris's spectrogram display and easy selection tools to spotlight the most interesting spectral characteristics. Blend and layer your modified samples, then beef up their impact with a choice of suboscillator waveforms.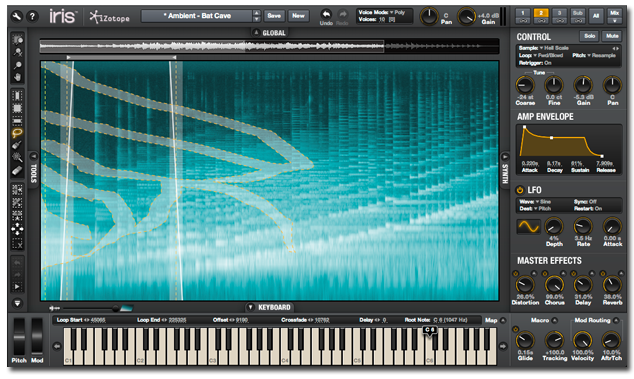 Still hungry for more? Add attitude and dimension to your creation by applying iZotope's world-class effects and processors, including chorus, reverb, delay, distortions, and filters.
For the synth enthusiasts out there, never fear! Favorite synth features like amplitude envelopes, LFOs, root note detection and key mapping are all there for advanced musical control, as well as the all-new Radius®RT for real-time pitch-shifting while preserving your sample's timing.
Unearth a world of sounds you've never heard before with iZotope Iris™. Driven by iZotope's award-winning visual selection technology, Iris is a groundbreaking sample-based synthesizer that harnesses the power of both your eyes and your ears. Fuel your creativity with Iris's new spin on sound design, perfect for musical inspiration and sonic experimentation.