Gemini, an esteemed manufacturer of DJ and Pro Audio equipment, has recently informed us that they are now shipping their new active studio reference monitors, the SR Series. Featuring exceptional accuracy, high-quality components and sleek design, Gemini's SR monitors deliver true precision for any mixing environment.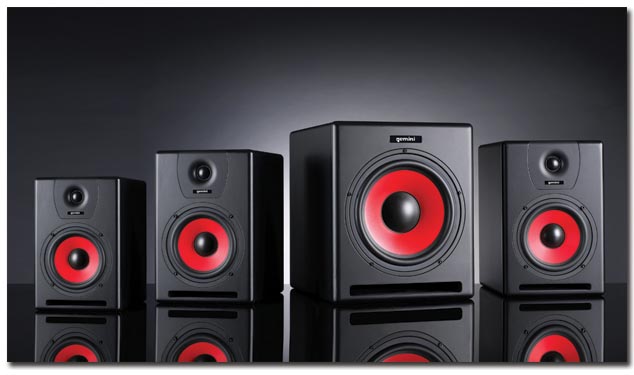 The SR series includes three active monitor configurations and one active subwoofer. The SR-5, SR-6 and SR-8 monitors employ 5-inch, 6.5-inch and 8-inch glass aramid composite woofers, respectively. The stylish black cabinets also house neodymium drivers on soft-dome tweeters for articulate high frequency management. And to complete a powerful, full-range setup, the SR-10Sub sports a 10-inch woofer with 175 watts of high-efficiency Class D amplification.
The SR-5, SR-6 and SR-8 feature bi-amped designs with volume and high frequency controls. Crossover frequency adjustment for the SR-10Sub also lets users tweak their sound to suit their specific room.
"When it comes to monitors, accuracy is crucial," says Alan Cabasso, President of Gemini. "Decent monitors can sound great in your project studio, but truly accurate monitors will ensure your mix sounds great everywhere else – your car, iPod, stereo, wherever. Gemini's SR monitors were designed to offer precise audio so you can create the best mix possible."
Thanks to meticulous engineering, the SR Series offers audio that truly reflects the state of your mix. For more information, visit geminiproaudio.com.