The creative minds behind Mixed In Key software are proud to announce the release of Beyond Beatmatching: Take Your DJ Career to the Next Level, a book that gets deep into the craft and business of professional DJing. Authors Yakov Vorobyev and Eric Coomes have more than 20 years combined experience in the professional DJ business. Vorobyev is also president of Mixed In Key, makers of the industry-standard harmonic-mixing software for DJs.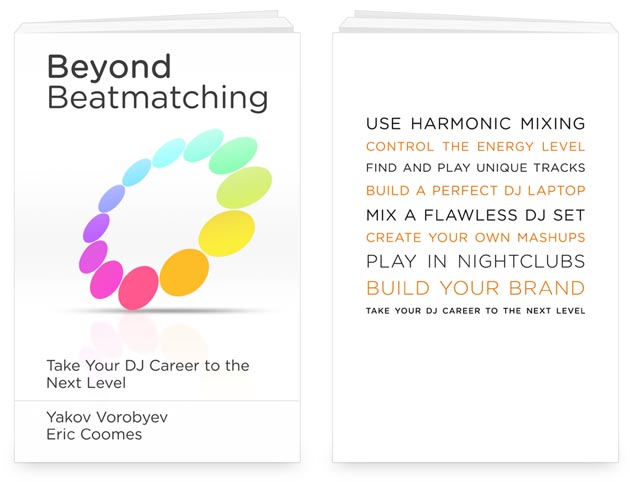 "In this book we cover many advanced DJ techniques," Vorobyev says. "We want to teach DJs something new, useful and exciting, regardless of their skill level. Most of all, we want to help them become incredible DJs."
Beyond Beatmatching talks about:
• Harmonic mixing: Learn basic and advanced techniques in this vital DJ skill.
• Putting together your set: Discover how to mix a perfect DJ set.
• Understanding the nightlife industry: Learn what goes on behind the scenes at a nightclub.
• Getting gigs as a DJ: Get booked at clubs and festivals.
• Building your brand: Increase your popularity on the club scene.
• How to build the perfect DJ laptop: How to optimize a laptop for digital DJing, no matter your budget.
• Assembling your team: Set goals for the future, and find the right people to help you get there.
Other topics covered include how to create mashups; how to develop a unique sound; how to adjust your set to fit the venue and audience; and how to use social media to reach more people, curate your brand, and expand your fan base.
The book also contains in-depth interviews with key DJs, managers, innovators and executives, including Markus Schulz, Sasha, A-list manager Ash Pournouri, talent booker Biz Martinez, and marketing guru Karl Detken.
"We decided to give back what we've learned through experience," Vorobyev adds. "There are many books about how to beatmatch, but what happens after you already know how to DJ? We hope to share advice that will help you get to the next level."
Beyond Beatmatching is published on the web for free. There are also Amazon Kindle and Digital .PDF versions available for $9.99 (US).
ISBN-13: 978-0-615-63986-4
Read the entire book at mixedinkey.com/book