The M3VE main monitoring solution combines world-class driver and cabinet technology from Dynaudio Professional with cutting-edge amplification and signal processing from Lab.gruppen and Lake. M3VE takes monitoring to a whole new level with a significant upgrade from its predecessor – the renowned M3A 3-way monitor. To top it off, the speakers are powered by a four-channel Lab.gruppen PLM10000Q amplifier, using the integrated, active crossover between LF and MF by Lake, while passively filtering the MF/HF cross-over point.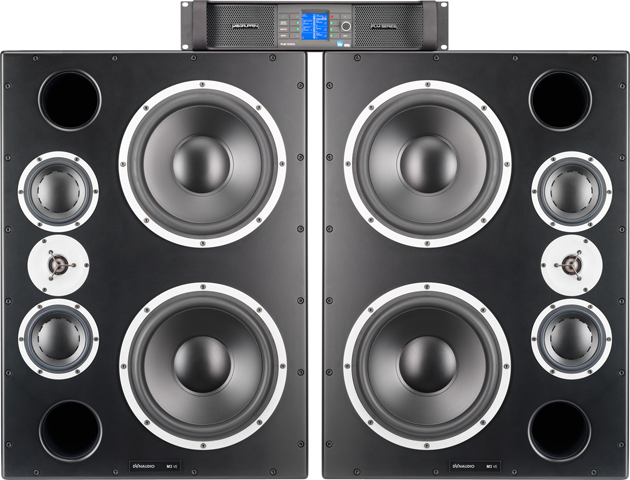 Sporting the newest and most pristine Dynaudio ESOTAR² driver technology, M3VE takes over where most other monitor systems give up. With unsurpassed attention to detail, underpinned by an impressive 22Hz – 21kHz frequency response and beyond 133dB SPL, M3VE leaves no room for desire in terms of resolution, range or sheer power. The only difference between M3XE and M3VE is that the latter is powered by a single Lab.gruppen PLM10000Q amplifier rather than two.
The cutting-edge combination of Lab.gruppen and Lake technology forms the ultimate backing for M3VE and ensures unlimited power and the tools for optimizing any room to become the perfect listening environment.
In short, M3VE surpasses any and all main monitor expectations!
M3VE Pricing: 27,300 USD / 20,300 EUR. Available Now.
M3VE Main Features
• Natural and Uncolored – Painstakingly Accurate Audio Reproduction
• Carefully Selected Materials – From Handmade Drivers to First-grade Wood, Cables and Connectors
• Extremely Powerful – 4,700 W Per Monitor
• ESOTAR² – Aluminum Voice Coil Technology
• Heavy Internal Damping – Minimum Cabinet Resonance
• Protection and Redundancy – Always Reliable
• Exclusive Lake Processing Algorithms – Raised Cosine Equalization, Linear-phase Crossovers and Limiter Max Loudspeaker Protection