Avid has announced VENUE Mix Rack compatibility with VENUE Stage 48 and VENUE Ethernet Snake Card. The new integration capabilities offer unprecedented flexibility underscoring the company's commitment to providing innovative, forward-thinking products to the best touring engineers and sound companies all around the world.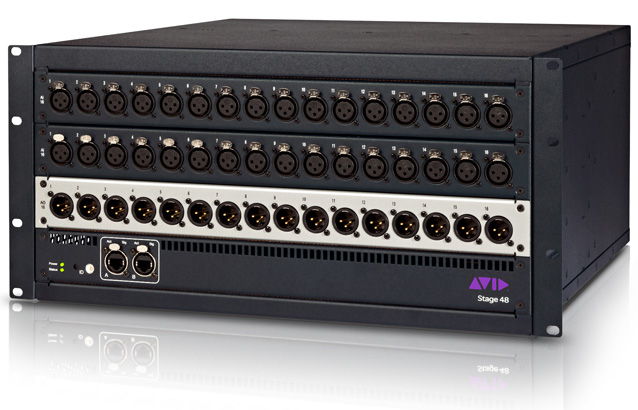 Current VENUE Mix Rack owners can easily add I/O flexibility to their systems through Avid's Stage 48 Ethernet AVB remote box via the Avid Ethernet Snake Card option. These new integration capabilities will give current VENUE Mix Rack system customers the option to significantly reduce cable clutter and expense while maintaining the best possible audio quality as they distribute their system I/O more effectively throughout the performance venue. These new capabilities equip Avid live sound customers with unmatched flexibility.
Highlights include:
Stage 48 remote box enables users to place the I/O anywhere throughout the performance venue and closer to the stage, delivering the best possible sound quality
I/O cards can be moved from Mix Rack to Stage 48 and customized as needed
Stage 48 features fully redundant, auto-switching Ethernet AVB connectivity, delivering a highly reliable, all-digital connection through dual standard 350 MHz Cat5e cables – at distances up to 328 feet (100 meters) away
For applications where two remote boxes are needed – such as keeping one on stage and another at front of house or close to wireless sources – users can simply connect two Stage 48 boxes to the Ethernet Snake Card to maximize distributed I/O
"Offering new options to our live-sound customers that enable them to overcome challenges and deliver crowd-pleasing shows is at the heart of what we do," said Dana Ruzicka, Vice President of Segment and Product Marketing, Avid. "These new integration capabilities are a direct response to our customers' needs and emphasize our commitment to deliver first-class solutions to the world's best live-sound engineers."
Availability
VENUE Mix Rack, VENUE Stage 48, VENUE Ethernet Snake Card® are available now.
AVID