For the 2013 NAMM show, Rupert Neve Designs is announcing two new 500 Series modules: the 511 Mic Pre with Silk, and the 542 True Tape Emulator with Texture. As two of the only 500 Series modules actually designed by Mr. Rupert Neve, the 511 and 542 combine the classic tone and versatility expected from a Rupert Neve design with the form factor and value of the 500 Series format.
500 Series modules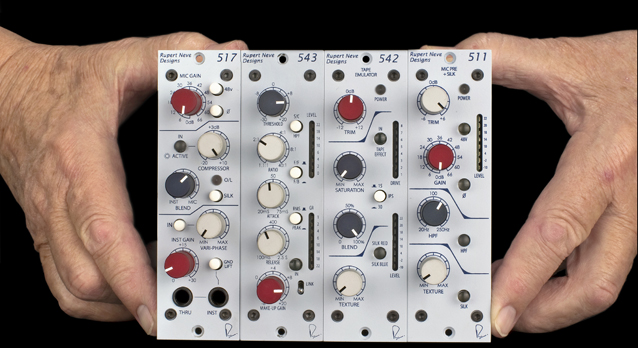 511 Mic Pre with Silk
With a truly legendary preamp and the flexibility of variable Silk/Texture, the 511 provides exceptional sonic performance and flexibility for only $650 (list). Incorporating the pristine preamp circuitry from the 517, the sweepable high-pass filter from the 5012, and the power of a variable Silk circuit derived from the flagship Portico II Channel, the 511 is a Rupert Neve-designed workhorse for any user's most important tracks.
542 True Tape Emulator with Texture
The second new module, the 542, is a follow-up to the acclaimed Portico 5042 which has a will retail for only $895 list. As such, it delivers a remarkable simulation of classic tape sound through the inclusion of genuine tape drive circuitry while also incorporating a number of new methods for adding analogue color to individual tracks and mixes.
With the introduction of the 511 and 542 to the Portico 500 Series, which also includes the existing 517 Mic Pre/Compressor/DI and the 543 Mono Compressor, the 500 Series now has four of the most versatile tone controllers and mic preamps available on the market. In a world with numerous imitations, only the Portico 500 Series modules carry on the legacy of tone, quality and craftsmanship synonymous with the Rupert Neve name.