Mixvibes has a little present for you this Easter weekend. For one year, users have enjoyed CrossDJ for iPad. The app has been a success, with a 90% update rate. To celebrate, the app will be exceptionally at $0.99 / 0.89 € / £0.69 instead of $9.99 / 8.99 € / £6.99 during this weekend (starting Saturday the 30th – local time in each country).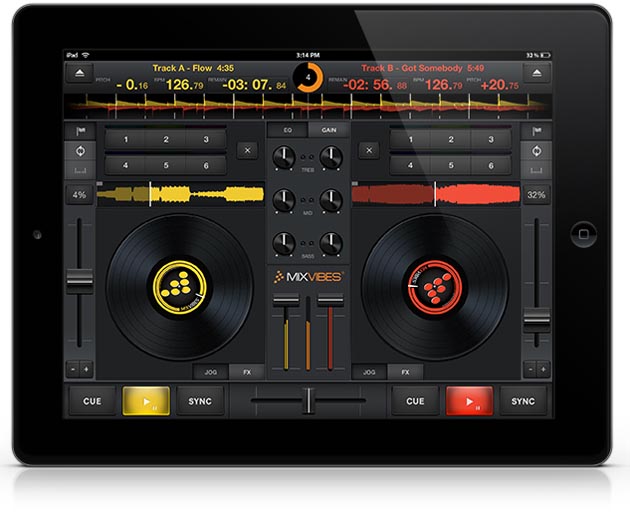 10 years in DJing software expertise in one App
There are many «Djing» apps in the AppStore, but few are developed by genuine DJ software experts. CrossDJ for iPad is designed by a multi-award winning company which has always been at the edge of technical innovation in the music software industry.
A complete DJ tool
This app for iPad has all the features a DJ would expect : 2 channel mixer, 3 band EQs, loops, locators, high precision FX with X/Y control pad. If you are a club DJ, you can plug your iPad to a mixer table (with a sound card). If you DJ for your friends, you don't need a controller: everything is in the app.
Excellent audio on iPad
MixVibes uses and develops the best sound algorithms of the market : sound level, bpm analysis, keylock (tones do not change with bpm match).
Best library management
CrossDJ for iPad takes full advantage of the iOS media management : access all your iTunes playlists. It also offers an exclusive triple criteria filter, a rating system and additional sorting (by bpm, …) so that you can list your tracks as you wish. On top of that, you can pre-listen to your tracks (during the mix) thanks to the split-audio routing modes available (from your iPad in mono or from and external mixer with a sound card, depending on your set up).
Features
• 2 vinyl decks with realistic scratch
• Ultra-accurate synchronization and ultra-fast beat matching
• Complete DJ Mixer with 3-band EQ, volume faders, cross-fader and level meters
• Parallel waveforms and track overview display
• Direct access to your iPad iTunes library and smart search with multicriteria filters
• Sort tracks by BPM, title, artist, album or genre
• 14 Audio FX: Low-Pass, Hi-Pass, Echo, Delay, Phaser, X-Phaser, Flanger, Jet, Chopper, Crush, Brake, Roll, Cut, Bliss
• X/Y control pad for FX
• Live Beat grid edit
• Auto loops (1/8 to 16 beats)
• Slip mode loops
• 6 hot cues
• Keylock
• Pitch fader and pitch bend – Pitch range from 4% to 100%
• Split output function for headphones monitoring*
• Multi-audio for USB compliant multichannel soundcard
• External mixer audio routing mode (channel A and B are routed to different outputs)
• Audio via Bluetooth
• All main audio formats compatible : MP3, AAC, WAV, AIFF, …
* Requires MixVibes' DJ CABLE (more info: www.mixvibes.com)