UK producer Paul Epworth has recently installed the ultimate Antelope Audio clocking solution for his DAW interfaces and converters with the Isochrone Trinity and 10M Rubidium Atomic Clock. The Isochrone Trinity high-definition master clock has a total of nine independent clocks employing Antelope's 4th Generation of Acoustically Focused Clocking with 64-bit Digital Signal Processing (DSP) 3 of which are audio generators with up to 384kHz sample rate and +/- 200 cents varispeed.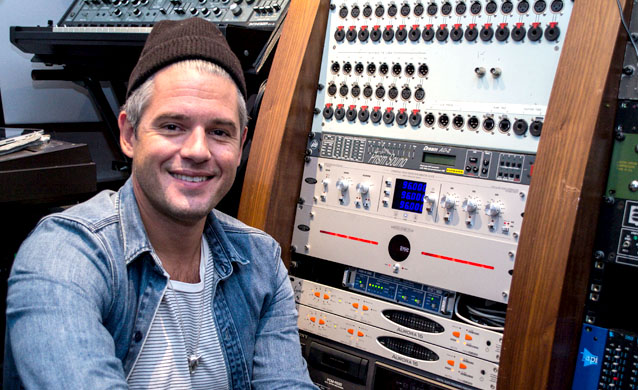 Paul Epworth
He has also opted to feed the Isochrone Trinity from the optional 10M rubidium atomic clock for even great accuracy to achieve the maximum performance that is a staggering 100,000 times more accurate than the quartz oscillators used in most equipment.
"I've tried many different permutations of clocking systems for recording and mixing and have had varied results which left me unsure whether there really was anything to be gained from a stable external clock. Having used the Antelope 10M and Trinity I can safely say the results are that not only that sold clock is more important than I ever realised, but using these Antelope boxes the difference was truly staggering."
"From the moment we plugged them in and switched them on the width and depth increased, reverb tails hang, there is even an EQ difference, leaving me only questioning the calibre of results I'd had previously."
"The highs seemed smoother and more detailed, the high mids less harsh and the bass tighter and deeper. I can only say the overall effect is truly more "analogue" somehow and every studio should have one!", Paul Epworth – Producer
It's no exaggeration to describe Paul Epworth as the most influential British producer of his generation. Nor is it hyperbole to also call him the most successful and in-demand, too. His recent production roll-call reads like a must-have list for right-minded music fans: Adele's '21', Florence + The Machine's 'Ceremonials' and 'Lungs', The Big Pink's 'Brief History Of Love' (including their huge radio hit 'Dominos') and 'Future This', Foster The People 'Torches', Cee-Lo Green's 'The Lady Killer', Friendly Fires's 'Pala', Plan B's 'The Defamation Of Strickland Banks', notably the massive, definitive 'Stay Too Long' single…
There aren't many individuals that can lay claim to single-handedly shaping the music of a generation, but Paul Epworth is among them. This lasting contribution was given worldwide recognition when he picked up four key Grammy awards in 2012 in the categories of Record Of the Year ('Rollin' In The Deep' – Adele); Song Of The Year ('Rollin' In The Deep', which he co-wrote with Adele); Album Of The Year ('21' – Adele); Producer Of The Year.