Storn System, a hardware synthesizer manufacturer from Bandung Indonesia announces a new hardware synth.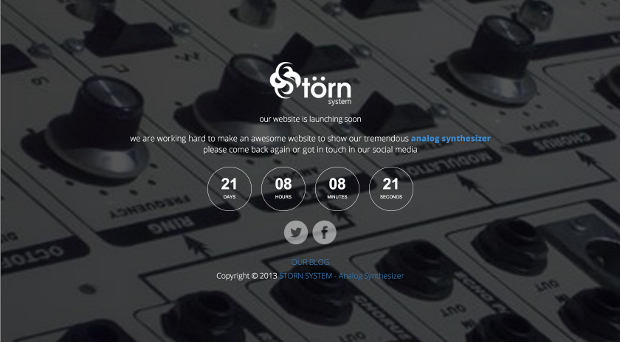 This company is new to us, a small story taken from there blog:
The "STORN" brand name itself, derives from SynThesizer electRONic, it's gonna be "STRON" when united, however it is not easy or even a catchy word, so that we split up the word and turn it into STORN, an identical easy to hear and ear friendly word. Storn System begins inadvertently research in the 2000s, it started off with curiosity, fascination and interest to create musical instruments such as Analog Synthesizer that can be use to played out with the band.
For the first time we just custom analog synthesizer, sound effect, music instrument modification, repairing music instrument. From that ystorn-system-analog-synthesizer-lavatoryear we attempting to customized and build our own Analog Synthesizer. Our very first Analog Synthesizer produced is mono synthesizer semi modular called "LAVATORY" in 2005 use by Ade Habibie a musician from Jakarta Indonesia, and the first Keyboard custom modification is for Elang from Polyester Embassy band. Just after repetitive trial error and then finally convinced, we made a decision to officially commercial as Analog Synthesizer maker in Bandung Indonesia on the year 2005, many thanks for unstoppable supports from our fellow folks, analog synthesizer rulez!.
And so in this 2013 we start to develop our very own boutique custom designed analog synthesizer modular to suit demands and stop to receive custom made or service devices, we begin to concentrating our aim to become one of analog synthesizer creator and join the little business niche. Hopefully we make analog synthesizer which might be an alternative solution for musicians and bands on the planet for producing experimental sounds that expected, therefore we desire that with the addition of Storn System on the global community is to get rid of the boundary in between Indonesian music and global music, we would like to provide a message that lots of folks in Indonesia, that has capability beyond logic.
We also want to said that each and every analog synthesizer that we designed it all self-taught that we learn from the exploration, as for each analog synthesizer we develop with all heart and blood, simply because we are also musicians and know your hunger.