V-MODA is thrilled to announce the latest addition to their award-wining M-Class Series – the XS. Designed for ultimate comfort and sleek ergonomic fit, the XS reflects V-MODA's commitment to fashion-forward wearable technology, combining professional-grade quality and a personalized style.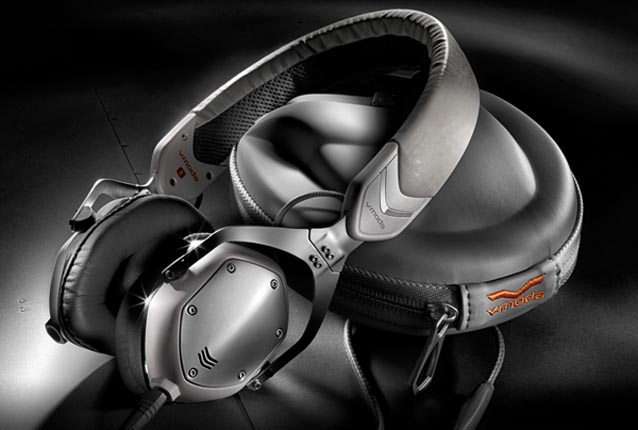 SLEEK ERGONOMIX for BETTER SOUND
The angles and sleek headband design of the XS "mind the gap" by minimizing the unsightly space between the headband and your head. The result is a superior fit, added comfort, grander sound and a compact profile. 5+ years of R&D resulted in a wind-tunnel worthy design that contours evenly to the shape of your head, with angles that frame facial features. Enjoy long listening sessions comfortably with supple memory foam cushions that naturally adapt to your ears for faster "burn-in" and better noise isolation. The result of the meticulous design process behind the XS is a fashionable form-fitting design that elevates your listening experience; discover why "the fit is the sound.
CASE STUDY of STYLE
"For nearly 10 years I have studied global fashion trends and paid close attention to individuals who wear and don't wear headphones including the different shapes and sizes," says Val Kolton, CEO of V-MODA. "While on- and over-ear headphones have gained popularity due to substantial mainstream marketing, I found that many consumers are conscious of their silhouette and don't like wearing bulky headphones. For instance, in quadrilatero della moda (quadrilateral of fashion) in Milano where V-MODA's design studio is located, it is a rarity to see anyone wearing headphones. Until now, there have been no viable headphone options for the fashion-conscious music lover."

"One Milanese woman I interviewed claimed she 'looked like a helicopter pilot' after she regrettably bought a set of plastic on-ear headphones," says Kolton. "In my eyes, the finest wearable technology should be engineered with a core of metal materials yet blend with the user through human feature-fitting industrial design and minimal branding."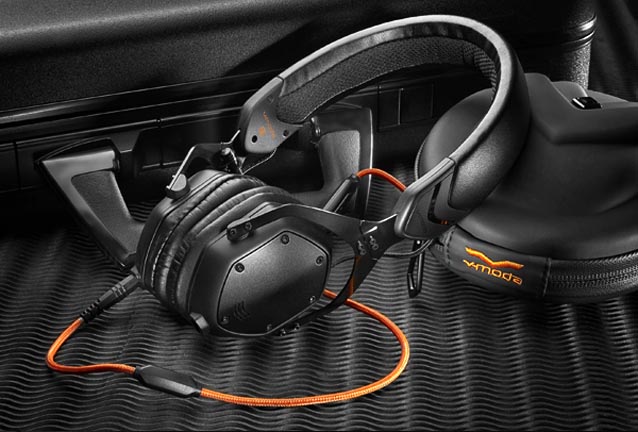 ÜBER PORTABILITY
The XS model is one of the smallest in its category, because it features the patent-pending CliqFold Hinge that precisely folds the headphones into an impossibly small exoskeleton case. The headphones and case are so small that many users in focus groups decided to replace their usual in-ear headphones with XS.
XS FEATURES
40mm Dual-Diaphragm Drivers (patent-pending)
No batteries or artificial sound processing
CliqFold folding hinge (patent-pending)
Dual Inputs and SharePlay with V-CORK seals (patent-pending)
Exoskeleton case
Kevlar-reinforced universal SpeakEasy microphone cable for Apple iPhone, iPad, Android and Windows devices
2-Year Premier Warranty, lifetime 50% immortal life program and V-MODA Six Star Service
RENAISSANCE VERSATILITY
V-MODA designs its products to be versatile, adapting to different uses and looks thanks to a wide range of accessories. We call them "Renaissance headphones." They are put through the tests of demanding consumers, modern audiophiles, athletes, musicians, travelers and even gamers.
SHARING & DUAL INPUTS
Dual inputs let you share the music with others, or function as a virtual on-the-go mixer. The patent-pending V-CORK seals allow discerning listeners to perfectly balance the audio. An optional BoomPro microphone instantly transforms the XS into the ideal headset for gamers, podcasters and broadcast professionals.
The XS is immediately available for $212 in Matte Black Metal and White Silver at V-MODA.com/XS including customization. It is also available without customization for $199.99 at Amazon.com, Brookstone, Microsoft, Collette and other fine stores worldwide.
For more details and information please visit the V-Moda website.