Focusrite announces Saffire PRO 26, the latest addition to their award-winning Saffire PRO range of FireWire/Thunderbolt compatible audio interfaces.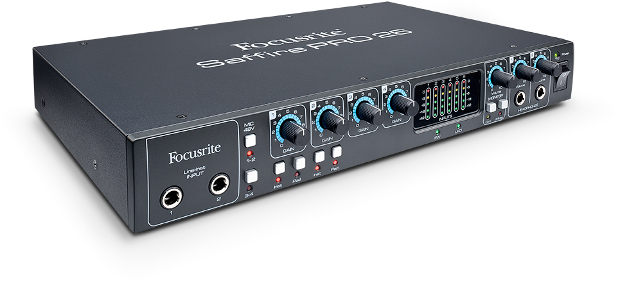 Building on four decades of audio excellence, Focusrite's Saffire PRO 26 boasts the same high-quality audio design as the hugely popular Saffire range of interfaces in a portable, desktop-sized chassis.

Designed with both studio recording and live musicians in mind, Saffire PRO 26 features a comprehensive selection of professional analogue and digital I/O options. A total of 18 inputs and eight outputs includes four preamps, two instrument inputs, two headphone outputs, six line outputs and ADAT & S/PDIF connectivity. This extensive feature set allows you to expand and augment your recording or live setups, ensuring you get the most out of your interface.

Like all Saffire interfaces, Saffire PRO 26 connects seamlessly to a Thunderbolt port via a FireWire to Thunderbolt adaptor (not included) or directly to a FireWire 800 port with the cable provided.
Why FireWire when the future is Thunderbolt?
Although Thunderbolt provides some advantages, it's only available on the very latest computers. An audio interface fitted with FireWire can be used on both older computers and Thunderbolt-equipped computers via an inexpensive adaptor. Today, a purely Thunderbolt interface could only be used on a limited number of machines, and thus we believe FireWire offers more flexibility whilst still providing exceptional performance.