Korg USA and Karma Lab have posted a Flash-based OASYS Virtual GUI, an online demo that allows users to explore a virtual replica of the graphic user interface of the Korg OASYS Open Architecture Synthesis Studio. This full-blown simulator provides an interactive, in-depth tour of the OASYS interface in a way that gives a true feel for the logic, layout and capabilities of OASYS. It was co-developed by Karma developer Stephen Kay and avid OASYS enthusiast Bob VanDamme, in partnership with KORG USA.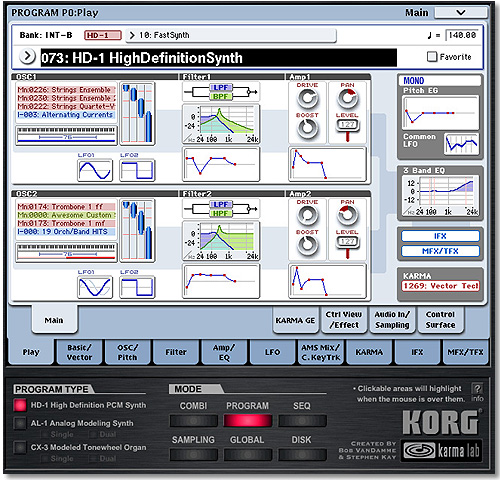 Korg designed OASYS to provide a full set of audio production tools to the demanding musician, and to reflect the changing nature of today's music making process. OASYS brings together advanced MIDI sequencing, 16-track audio HD recording, a flexible MIDI control surface, a CD burner, studio quality effects processing, second-generation KARMA technology, along with the world's most powerful synthesizer into one single, elegant instrument.


OASYS is not only an entirely new instrument, but a completely new platform to support Korg innovation for years to come. Powered by an ultra fast computer processor, and running newly-developed proprietary software atop Linux underpinnings, OASYS offers all the benefits of a variable software system, backed by a dedicated operating system and the hardware integrity that can only come from a fully-integrated instrument design. New synthesis methods for creating sound (EXi Expansion Instruments), new effects (EXf Expansion Effects), and additional ROM libraries (EXs Expansion Sample Libraries) can be added, ensuring that OASYS will remain the centerpiece of your musical world well into the future.
For more information please visit www.korg.com/oasys to see the virtual OASYS online demo.