FL Studio, Image-Lines all in one software music production suite for PC, has received a major upgrade to version 6. FL Studio 6 is an exciting combination of core enhancements and new plugins. FL Studio is a complete and versatile virtual music studio for creating songs from any genre, as well as backing tracks, loops and realistic drum loops.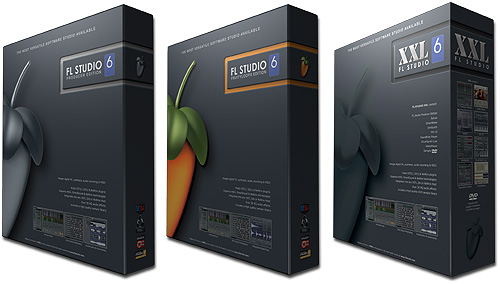 NEW PLUGINS:
° DirectWave is a powerful and versatile sampler.
° EQUO is an advanced morphing graphic equalizer .
° Fruity Delay Bank is a powerful delay/filter plugin with 8 availablebanks.
° Fruity Multiband Compressor is a three band stereo compressorwith limiter functionality.
° Fruity Reeverb 2 simulates different types of acoustic spaces.
° Fruity Squeeze is a bit reducing, distortion 'Puncher' and filtering plugin.
° Chrome is a visualization plugin.
° Envelope Controller.
ENHANCED:
° Revamped Mixer with enhanced free track routing.
° Plugin Delay Compensation.
° Sytrus v2 included in XXL edition.
° Visually revamped Browser with various enhancements.
FL Studio is now even better value for money with 45 different built-in effects, over 21 included high quality generators and more than 20 additional plugins.
A FREE Trial version (only save disabled) is available from the download section of the FL Studio website.
FL Studio will come in 4 different editions:
o FL Studio Express Edition – Downloadable US$ 49 – Boxed: N/A
o FL Studio Fruityloops Edition – Downloadable US$ 99 – Boxed: US$ 139 SRP
o FL Studio Producer Edition – Downloadable US$ 149 – Boxed: US$ 209 SRP
o FL Studio XXL Edition – Downloadable US$ 348 – Boxed: US$ 449 SRP
All product upgrades are FREE for existing download customers Boxed versions are available from International Distributors.