Yes, finally the guessing is over. The Denon MC3000 has been announced, introduced, you name it. We have known this controller since the past BPM Show, where an obscure, out of focus image had been leaked. More pictures have been released in the months after. Most surprising is the fact that Denon has lost the DN prefix. So we can present you the MC3000 DJ Controller.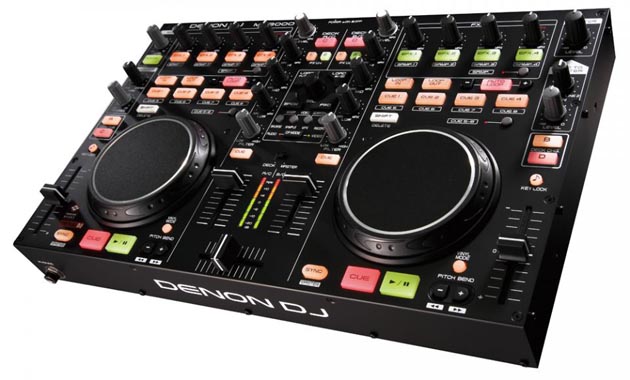 The MC3000 DJ controller from Denon DJ is an affordable professional MIDI controller for Native Instruments® TRAKTOR™ 2 Technology Inside products, complete with TRAKTOR™ LE 2 included, and fully optimised for Virtual DJ.
4 Deck control and a high quality internal soundcard, in-fact the same soundcard found in the highly popular DN-MC6000, that proves there are no sacrifices in quality and reliability with the MC3000 and a clear reference to the standard that Denon DJ has already set for Professional DJ Controllers.
The quality of the high resolution, 105mm touch-sensitive jog wheels and the smooth 100mm long pitch slider (with 14 bit resolution) is evidence that the Denon DJ build quality and reliability is still present even at this more affordable price point.
MC3000 Features
Line to master gives the option of 2 analogue line input mixing control so a variety of external players can be connected and used alongside a Mac® or Windows PC – great for handing over to the next DJ after a set without interrupting the flow of music.
The Layer Function for Dual Deck and 2+2 (4-channel) mixer control retains functionality whilst maintaining an un-cluttered and ergonomic layout so that both the Bedroom DJ and those wanting to move onto a more
professional setup still get maximum functionality with minimal hassle.
MC3000 layout has been optimised for use of the new sample deck and loop recorder function in TRAKTOR™ 2 making it is easy to hit SAMPLE and switch the EFX panel to a dedicated sample section with independent volume, and filter, controls for each sample – creating unique mixes don't get much easier than this!
Complete with file browse navigation keys and rotary encoder file selector knob, 8 (4+4) hot cue buttons with layer bank selector key keeps the MC3000 as a fully operational controller for the latest software's and means you never have to touch your laptop mid-set again.
The powerful shift key for various dual button operation, large size Cue and Play buttons, and the inclusion of Denon "Legacy" Pitch bend keys gives truly professional features at your fingertips, minus the hassle.
Denon DJ's MC3000 is taking the next step into DJ controllers with build quality that has come to be expected from a Denon DJ product and has earned its place alongside truly Professional DJ controllers such as the DN-MC6000. Whilst managing to remove the lengthy process involved with learning features and button combinations – the MC3000 brings simplicity and functionality together to create the very best DJ showcase from Bedroom to Dance floor.
*Virtual DJ LE included for America's & Canada
* TRAKTOR™ 2 LE included for Europe and Asia Pacific