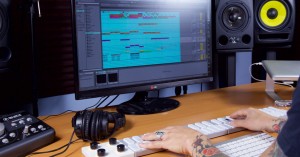 Incident Technologies Opho Keys – a DJ and Producer's Dream. Keys is the first music keyboard and MIDI controller that's completely modular, linking together through magnetic technology. You can expand to a full sized keyboard in seconds – without cords – by simply magnetically linking multiple Keys together, and easily breakdown to pack Keys away in your backpack. With 8 hours of battery life you can take Keys anywhere and get nearly a full day of playing.
Keys is built to be compact, travel friendly and durable. We use plastic reinforced with PCB and built Keys on top of a solid metal baseplate to add durability and rigidity. And, at only one pound it's light enough to bring anywhere. Keys is also fully USB-MIDI compliant and works with iOS and Android devices, along with hundreds of apps such as GarageBand, Ableton, and more, so you can plug in and get set up quickly and easily.
From the stunning illuminated keys to full scale key width, spacing, feel, and velocity sensors, every aspect of Keys was carefully considered by our creative and engineering team. Keys is equipped with next-generation gesture recognition technology so you can adjust octaves and control tones just by waving your hand above the keyboard.
Tech Specs
DIMENSIONS: 20 mm x 320 mm x 106 mm  (approx. 0.78″ x 12.59″ x 4.18″)
WEIGHT: 1 lb.
MATERIALS: Plastic reinforced with PCB (fiberglass) keys connected to a metal baseplate to add durability and rigidity.
OCTAVES: 24 keys (2 octaves) (use gestures to transpose up or down)
GESTURE SENSORS: Sensitive proximity sensors that are capable of recognizing gestures or can be used to modulate parameters like pitch, sustain, or mapped midi parameters
PROCESSOR: Texas Instruments 80Mhz ARM Cortext M4F
OUTPUT: Mini USB — charges Keys and can be used as a USB-MIDI connection
POWER: Rechargeable LiPo Battery with 8 hour battery life
BATTERY LIFE: Up to 8 hours
DEVICE / OS COMPATIBILITY: USB-MIDI compatible with CoreMIDI on iOS, Mac, PC, and Android. Connect quickly and easily to your computer via Mini USB or iPhone using the optional dock.
The price starts at $99.00 USD with various packages available (due to start shipping sometime in August 2015).
For more information, please visit the Opho Keys website or click here for more on their Indiegogo funding campaign and available packages.